Ah, Hollywood! Famous for celebs, sun…and murder cults! The Privy Council is the most exclusive club in town, headed by the entertainment industry's top mogul, a ruthless exec who enlists his famous underlings to kill the people who stole from him, two local garbage men. James and Billy must survive one epic day of sword fights, forest fires, and giant mechs! At least there's hazard pay. Collects issues #1-5.
Dumpster Dive with James and Billy as they try to escape one of the most exclusive Murder Cults in the City of Angels. One of the entertainment industry's top moguls is on the hunt to crush James and Billy, for something they stole? Get lost in the pages and see if James and Billy survive one of the most epic days of their lives!
"When I first read the Hollywood Trash script it reminded me of all those 80s and 90s movies so entertaining and with so much charisma that for me and for many they became ¨rewatchable classic movies¨. So try to print that feeling when designing the characters, both the heroes and the villain staff and the settings where all the events occurred. The story also has an air of a road movie which I am also a fan and in that aspect this project was also a challenge, I had never drawn a story that would totally turn up in one day.I really enjoyed working on this project with the great script by Stephen and the company of Chris and Jose."
– Artist, Pablo Verdugo
"Everyone involved with HOLLYWOOD TRASH wanted to make the best action-comedy ever put to comics, and I believe we achieved that. I specifically wanted each chapter of our 5-part serial to be stand alone, so that any reader could pick up any issue at any time and feel like they got a complete adventure, that they got their money's worth, and would want to come back for more. Having lived in Los Angeles, I intertwined my personal recollections such as the class divide and choking wildfire air, with what people normally associate Hollywood with – movie moguls and cults! I can't say enough about the art (Pablo wants action figures of his co-creations, and I concur). The illustrations, colors and lettering pop like the gold on Rodeo Drive. Alongside our editor Chris Sanchez, I'm proud to be part of this remarkable team."
-Writer and Co-Creator, Stephen Sonneveld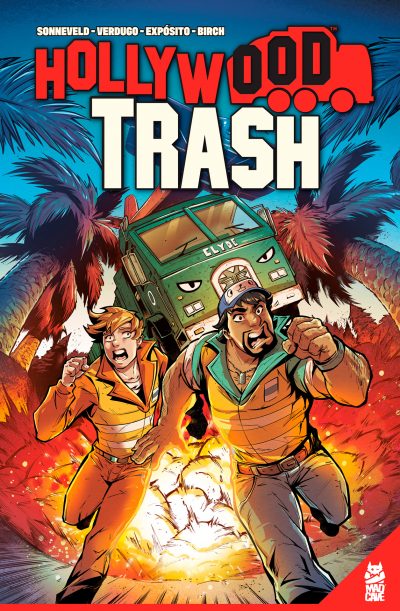 Needle & Thread has been nominated for the Edelweiss+ Editors' Picks sessions featured On-Demand! Needle and Thread will be featured in the Young Adult section, as well as the Romance section of the genre pages.
Read More »