Years ago Shae, her brother Kenny, and two childhood friends experienced a traumatic, unexplainable event that left Kenny scarred for life. Twenty years later Kenny has committed himself to the belief that what they experienced was an alien abduction, and the group has since drifted apart. However, the sudden and mysterious disappearance of Kenny leads the group to reunite and discover the truth of what took place all those years ago. Collects issues #1-6.
After 20 years of separation, Kenny has suddenly gone missing. Shea and two of Kenny's friends unite on the search to discover where he is. Having to rely on their memory they discover something beyond the clouds that has haunted Kenny for so long.

"I truly enjoyed crafting the personal stakes for each character in comparison to the massive cosmic conflict going on above their heads. What comes from that is an emotional story that I can't wait to see readers respond to."
– Writer, Anthony Cleveland

"Anthony Cleveland does an amazing job blending the feel of a vintage blockbuster with all of the impact of a modern-day sci-fi thriller. You'll love this book as much as I love working on it."
– Artist, Antonio Fuso

This week readers can collect Issues 1 – 6 of Stargazer with the full trade paperback, releasing April 28, 2021.
Comic Watch
@ComicWatchHQ
"The natural progression of the story telegraphs clearly that the series will head in a SF direction but the tension created by the doubt in the past is enough to give this book the emotional depth to separate from the pack." - Cody White
Fanbase Press
@Fanbase_Press
"Fuso's illustrations and Stefano Simeone's colors construct a phenomenal world of inescapable twilight. The book is bathed in beautiful violets and cool magentas that fill the panels with brisk evening air. Fuso strikes a stark, but balanced, contrast between highlight and shadow, especially in the last few pages as the mystery takes off" - Gabe Cheng
Comicon
@TheComicon
"Stargazer has some big X-Files energy and that's definitely a good thing. It captures that sense of wonder and amazement that we've all had at one point in our lives when we look up at the stars. What is really out there? Judging from this debut issue, we're in for a treat…a terrifying, yet awesome treat.." - James Ferguson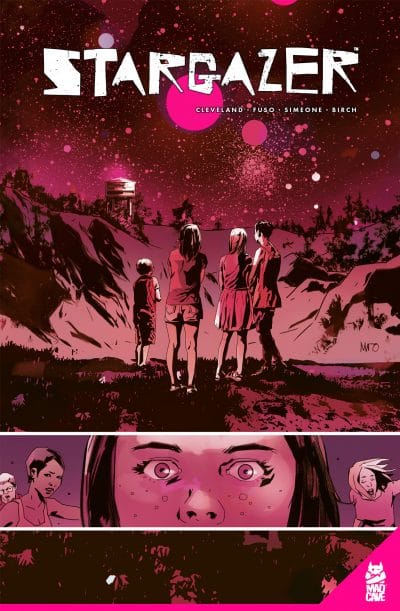 Dumpster Dive with James and Billy as they try to escape one of the most exclusive Murder Cults in the City of Angels.
Read More »